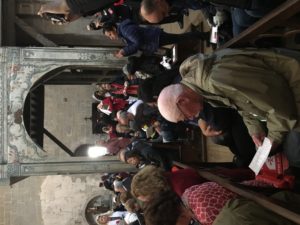 Just back to the safety of the hotel from a big dinner party.  It has been a tearful sort of wrapping  up of our trip.  I can see why these guys are involved with this long term.  All seems very rewarding.
Tomorrow we have a light day to pack our gear.  There is Mass of course.  Then in the afternoon there is another malade meeting.  This is the second, the first one was a really bonding experience.  Anyway, I plan on telling my one and only cancer joke tomorrow.  Somehow I feel the need to inject some additional humor into this situation.  There is something healthy about being able to laugh in a tough situation.
Ah, what is this my cancer joke?  Well OK, ready?  This guy falls off the roof of a six story building and as he is going by the sixth story windows and someone yells out, "Hey, how is it going?".   He yells back, " Oh so far so good! "  And the guy goes by the fifth story window and someone yells out from the fifth story, "Hey, how is it going?"  And he answers, "Oh so far so good! "   So you can see where this is going.
So as you are walking down the the hall at the hospital and your cancer buddy that knows the joke yells out, "Hey how is it going?"  You know to yell back, "So far so good!"  And that is what gets really funny!   So it is all about living in the moment, for today and being happy.  Who knows what is next?
Yea, off to dreamland now.  A little too much wine and laughs.  Buen Camino, so far so good loves, Felipe.