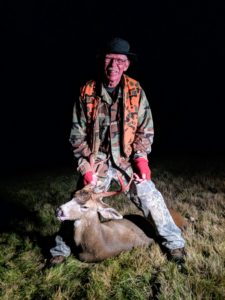 We at Caminoheads have become good at connecting. We like to get together with people and ideas that further our cause. And I guess when we say that we are trying to get closer to God and our fellow man we are doing a pretty darn good job these days. We have practiced and learned and gathered insights as we have gone along. This is all exciting.
Connection happens other ways here as I think about it. The goal of getting closer to Raven Ranch and the land is also in play. Wiley and I have been spending an hour or two a day in the past week deer hunting here at the ranch. Wiley harvested a buck late in the day on Saturday and yesterday I finally found the one with my name on it in the last minute of autumn daylight.
I have to admit that I wrestled with how I was going to present this great news to you. Some would think well Felipé that's all a bit primitive. Well, yes maybe. Well maybe that is it exactly.
Over the almost forty years that we have been camped out here we have attempted to harness the strengths of the place. Our good water comes from here as does the firewood for our heat. This morning I had My Rebecca's apple butter and blackberry jelly on my toast. Our various gardens and the corn patch bring in a lot of the vegetables that we consume summer and winter. These are all connections it struck me this morning as I prepared to write to you.
Finally last night as I finally sat down to supper after the project of field dressing the deer Rebecca looked at me and said, "You've got blood on your face." Ah.
Harvest loves, Felipé.