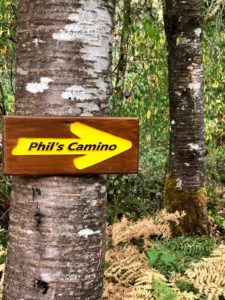 I'm at the hospital and have been spending time talking with a fellow patient in the next chair over instead of writing my blog. Jeeez we got to BS'ing. Both of us Marine vets so that is a whole world.
Last evening Kelly, my Camino walking partner, and I went to a send off party for two ladies on their way to Spain to walk the trail. It is always fun to hang out with Camino people even ones to be. After doing the trek with Kelly in the summer months I thought that September 1st would be the perfect time to start to escape the crowds and the heat. But you know every season has it's special call.
It is fun this harvest time that we are in. People trade stuff because we all seem to have too much of a few things. Corn for plums, plums for tomatoes, tomatoes for corn. And hunting season is coming to add to that mix. Organic meat will be on the menu.
So, will finish up my treatment here in a moment and be on the road back to the Island. There is still lots of fresh air and sunshine to catch today. Always good to hang with you, loves, Felipe.