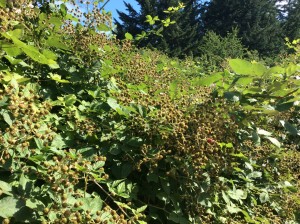 Well his brain is off anyway.  He is flying out for Spain on Thursday.  Off to Leon and meeting up with a gang of people that Mary Margaret is taking.  I was just absentmindedly wondering if that group could achieve the statis of "louder than the Italians".   I think so, will Kelly and MM coaching,  yea no problem.
Both Kelly and MM said that they would send material for the blog.  That would be good.  I am interested because the first half of this journey from Leon to Samos was the part that I had to bus through.  I missed good stuff like Cruz de Ferro, the man eating heather and Ponferrada.  Maybe I can catch up slightly.
So the important thing is that I gave Kelly his Phil's Camino patch, a one of a kind item, done by Eileen friend of Esther's.  It has a map of the Vashon trail sewn into it.  And it doesn't weigh much either.  I should have taken a pic of it.  Well, maybe on Kelly's return.
Well yes, people coming and going, isn't it great?!  I would love to go again to do part or all of it.  Maybe in September or October to eat berries across and skip the heat.  Think about it, we go together!  Berry love, Felipe.