(Our moon will be full tonight)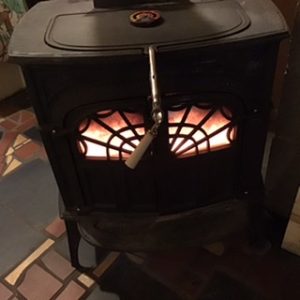 Yea, Halloween today. It's also the last day of October and the full moon appears this evening. It is directly opposite the sun. The sun will go down and the moon will come up in the opposite sky all in the same breath.
And yesterday that was such a great story that Cris brought to us on her blogpost. It was so rich and at the same time so simple. Love that, thanks Cris. So like Debra dreaming that dream as message for me. Or maybe this happens in many kinds of ways more commonly. We learn all the time by other people's example. That's a message for us.
Joyce Rupp in her blog that just came in to me today had a quote from Flavia Weedn, "Some people come into our lives and leave footprints on our hearts and we are never the same." Yea, ain't that the truth.
I was just tossing some more chucks of maple in the woodstove and reminded of the fact that one piece of wood just doesn't burn on it's own but the heat and light come from in between pieces. They seem to egg each other on so to speak.
Well OK, time to get going. A beautiful day here on the ranch. Need to get out there. The best to you.
Heat and light come from in between loves, Felipé.