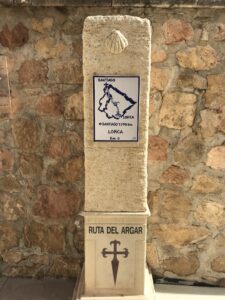 Dear Caminoheads,
Today, the trip continued to Lorca, Murcia. The only reason we stopped here is because we are trying not to drive a lot, and while our destination for tomorrow is Granada, we didn't want to get there on a Sunday. Lorca however, had a lovely surprise hidden for us: the whole town is dedicated to Santiago: the Camino ("Camino de Levante") passes by this town, and there is a whole church dedicated to Santiago, there are associations of pilgrims, homages to different pilgrims and others who have supported the Camino, spread all around the town. Pretty cool. And such a feeling of nostalgia… the place indeed seems like one of those towns we walked by when walking the Camino… (nevertheless, we have not yet seen any pilgrim).
Like almost any town in Spain it has its old center, but sadly lots has been destroyed in an earthquake that happened in 2011. Today there was a procession and the streets where crowded (not crowded really, but crowded in a "post pandemic" use of the word), there was a band playing music all around following the procession, people all dressed up with typical band suits, and there was a cheerful spirits in the people in the streets.
Today we are in a fancy hotel outside the city, a last minute booking that ended in this place way too much out of the standards for pilgrims, but let me tell you: I will enjoy a wonderful hot shower and a lovely bed.
I trust all of you are doing good!
Vacational loves,
Cris