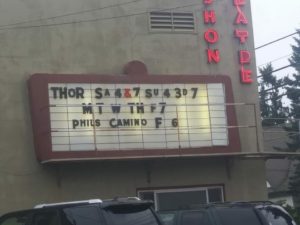 I cracked open FaceBook this morning with breakfast and saw something interesting. A guy from Gettysburg, PA is trying to get a hold of me. He had a name that I readily recognized as one of my school chums from New York but was it really him? So, I look at "About" and there it was "Maryvale Senior High School". OK, hello Jim, long time.
Maryvale Schools may be one of the only public schools in the country named after the Virgin Mary. The official line is that the school was named after the road that it is on but the road was named after Mary. I think that counts.
I remember once the Gideon Bible outfit came to our school to give out Bibles. I still have mine. Gideon International is famous for trying to get a bible in every hotel room. Look in the drawers next time you are traveling and check. Anyway, I remember getting caught in a stampede as nine hundred students crushed into the lobby hungry for the Word. I'm not quite sure that would happen these days.
Here I've told two stories and I haven't gotten to the one I wanted to tell. This sort of has to do with Jim, remember Jim. He was living in Nortern Arizona at the time and a Marine buddy and myself were visiting him. My buddy and I decided to test ourselves by doing some climbing in a nearby canyon. Here is the deal, we had a rope and a book on knots. We weren't maybe the sharpest knives in the drawer.
So we worked our way up till I remember sitting on this little ledge with my feet hanging down and having this bird land next to me and looked at me like I was from another planet, guess he didn't get much company. I'm communing with this creature and all of a sudden he dives off going straight down and just disappears in the distance like some deal in a Roadrunner cartoon. It gave me a sudden appreciation for my situation.
So, now as I am approaching the door of my seventieth birthday I don't feel like I somehow have to manufacture danger. There is plenty around here for everyone. Well, that is it for now.
A quick shower and a walk after that. Love you dangerously, Felipe.