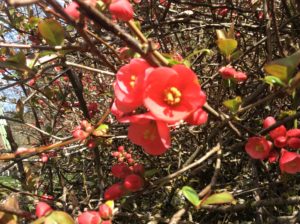 Here we are balanced between Good Friday and Easter Sunday, two polar opposites.  This Saturday that is in between looks like something empty sometimes, like a blank spot.  Does it have a purpose?  It never did really for me until I stumbled on a notion.  I'm calling it a notion because as far as I know it isn't exactly spelled out anywhere offically.  It is an idea.  And that starts with as it says in the Apostles' Creed, Jesus "descended to the dead."
Yes, and what did he do there?  The notion that I love is that He preached to the multitudes of past eras and offered them His Covenant.  I like to think that is what happened so that no one is left behind for not hearing about it.  It seems a perfect fit in my mind and a sort of puzzle piece that I enjoy putting in place even if I don't have proof of it's existence.
And how about Notre Dame's win yesterday in women basketball.  Catherine and Dana were over yesterday to watch as Catherine is a huge fan of ND.  So they are in the finals tomorrow against Mississippi State.  The finals!  So we have more basketball thrills and chills tomorrow.  Easter and Catholic basketball, that seems a fit.
OK, on my way to do some tilling with the tractor.  Beautiful day here.  Love abounds, Felipe.