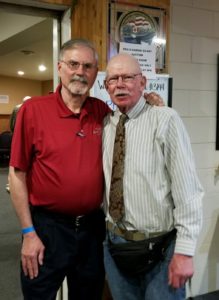 Yea, did we have a good time last night or what!  The local Eagles Club held a fund raiser for Phil's Camino, So Far So Good, the new almost hatched hour long version.  Spaghetti with meatballs and a salad bar and pastry dessert has served buffet style.  The bar was open for wine and drinks.  Ann kinds of friends and neighbors showed up to be with us.  There was an auction for bottles of wine and a silent auction for all kinds of goods and services.  Yea, then we showed Phil's Camino, the short version.  They cried, I cried, yea we all cried.  Had a long Qand A which I always enjoy.  And ultimately we made some money after the expenses.
So, things are good there and in other places.   I feel  like I am part of the original Passover because my side effects are so far so mild this cycle, the Angel of Chemicals has passed me over.    I can live with this level of toxicity.  Finally some light at the end of the tunnel here with this problem.  And maybe there is more improvement possible.
Then the blog is back up.  I am holding my fingers in their crossed position.  It seemed so very odd to have it non functional,  yikes.  But here we are broadcasting loud and clear.
So walk this afternoon at 1600, 4 PM.  The weather should be good.  Maybe some new folks will show up from last night's affair.  Come if you can, things looking up loves, Felipe.