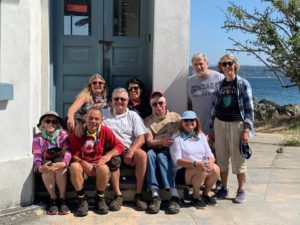 Dear Caminoheads,
I am not going to say anything new in this post to be honest with you, this blog is the vivid example of what friendships made in the Camino are: Mary Margaret&Phil&Kelly is just one of the examples, but I am sure each of us have our own.
I have a number of friendships made in the Camino, each of them very special. I find myself at times, trying to explain to others who have not gone to the Camino, even more don't know about the Camino, how is that these people became so important to me, so close to my heart, and so close to my daily life. Maybe, I can say this because I also have a family that has nothing of conventional and different people from different places have taken over roles as fathers, mothers, sisters, brothers, uncles, aunts, cousins, etc. But I believe there has to be something else, some sort of "global soul" or "clay DNA" that makes us all recognize each other as "a part of the other", this term MWE =ME + WE that Dr. Siegel describes, this fact that each of us is oneself but a large part of who we are, is who we are because of the others.  There is also a line on the word "Friendship" by David Whyte that says "… through the eyes of another we receive a greater sense of our own personhood, one we can aspire to, the one in whom they have most faith."
Since I have gone to the Camino for the first time, in 2011 (when I walked from Leon to Santiago), I have been increasing my knowledge of who I am. Maybe, for the first time in my life -with the exception of the man who became my husband- that I met people outside my circle or through others -like the friends of my husband, for example-. When I went to the Camino, all the people I met and the friendships we established, were "my own". And believe me: at 36 years of age, it was a life changing experience: these people I met walking "liked me" for who they felt I was when we interacted. And I know that happened too because in the Camino, I had the opportunity to be vulnerable, and I was so tired (not for the walking but for the experiences that pushed me to the Camino) that it was almost impossible to keep my guard up, I had no left energies for that.
Phil was a fan of brainstorming about "what we have figured out" in this blog and in this experience of walking the Camino, and I have always thought about the goodness of people, the beauty in others's hearts, and this experience that everything starts with a first step, but I believe this discovering of who we are through the eyes of the others is a whole another topic.
A few days ago, talking with my Camino friend from Boise, ID, she said to me that besides her daughter, the only other person with whom she could let her guard down completely was me.  Lately, I have felt so loved, so supported, so accompanied by the others, that to hear this statement on return has a value that I cannot expressed with words, this is why it is great to have you here reading, because I know you, fellow pilgrims, understand what I am talking about.
How did we get so lucky? Loves,
Cris