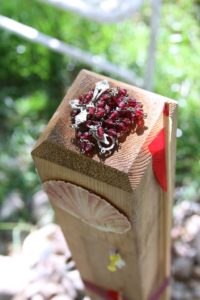 At the hospital today for a treatment after my two weeks off. I don't know if off is really the right word as it is more like work. Fun side effects to sort out and figure out how to minimize and work into a functional life. Anyway, enough of that. But the whole fascinating medical lashup buys me time, time to be with you.
So with all this time let's get on with it. So, I said the rosary on the ferry this morning for the trip is about fifteen minutes. It's not an ideal place but it is a place. So, I was praying for two specific people that I was asked to do. Normally or most of the time I am praying for the rock pile at Phil's Camino which holds about three thousand stones, representing three thousand cares, wishes and thank yous some of them mine. But today I was trying to concentrate on these two specific individuals and to tell you the truth I wasn't doing that great a job at it. But somewhere along the line it occurred to me that maybe if I was just clear and undistracted for one tenth of a second in there's somewhere that was all it really needed.
God is close by and He can pay attention to all of us at once I'm thinking. Everything that I got can be transmitted by me in an instant so I picked one tenth of a second as a working number. Why not? Most of prayer is for me really, to change me. I hear God already knows my thoughts anyway, right?
So I am practicing one tenth of a second prayer. Just the shortest instant that a conscious thought can be. Kind of a zap. This is on my mind today.
Just saw Nugget(beloved Dr Gold) and I impressed him with my hand drawn two color graph of the happenings of the last two weeks. Well, I was trying to make up for the time before when my info that I was supposed to report was unorganized. But this time I had visual aids!
OK, that's enough for today. Hope you all are doing well. Looking forward to Super Bowl. Alperfect, love, Felipe.
PS – Tonight is the night that St Brigid will be afoot. We put out a handkerchief or bandana spread out on a bush outside til morning and that dew that is collected is from her, a healing liquid.