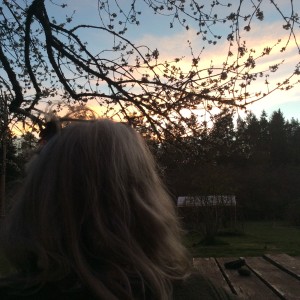 I had a new nurse, new to me, yesterday at the treatment center.  This was for my every other week big chemo treatment which takes, give or take, six hours.  He was a male nurse.  Is that redundant?  But maybe ten to fifteen percent of the nurses there are boy nurses.
Anyway, we were having some great conversation about the great state of Iowa since that is where he is from and where I am going in a few weeks for the Julian Dubuque Film Festival.  Yea, that was good.   And then we wandered over into some heavier cancer talk after that and I said to him,with the proper disclaimer that it may sound weird but, cancer may be the best thing that ever happened to me.   This is a big picture idea and one that I don't often share.  But he said that he had heard that before which was heartening for me to hear.  I wasn't totally out the on a limb, as they say.
In a sense that the disruption that this disease causes in all it's facets, details and deeper inner meaning is earth shaking to the individual and their family.  Somehow I saw  it as a catalyst for change.  Somehow with the help of some key mentors I was able to discern a path that led to the positive.  So what I was saying to my nurse was that it put me on a path to this change to the positive.   And that led to a total revamp of my inner being.   It's all a strange happening but totally worth it.
So according to one of my mentors, "In non medical terms God is keeping you alive to complete your mission."  Yes, I have had the luxury of having a very lazy form of cancer and some crazy good medical attention, granting me time.  I have had time to work on the movie and do do this blog which is so special to me.  Thanks for being here.
Love you, Felipe.