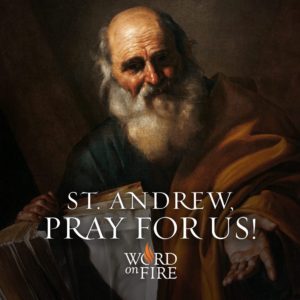 I don't know much about St Andrew other than he was brother of St. Peter. I need to study up. But that is a great image of him that some one painted. Man, I am pretty lame on my facts today.
But I do know that a hummingbird visited our new feeder a minute ago. Fun to see them in the bleak near winter, like little fairies flitting around. Oh, there is another. Maybe the same on, I don't know. They are green females so far. The males have some red. What wonderful little beings to share the planet with.
Well I am fling out on Friday to Sacramento to join up with our Phil's Camino magical mystery tour. Esther, Annie, REI, Padre Tomas, The Knight's of Columbus, Catalina and maybe Electra will be along for parts of it. We will be in Sacramento, Monterrey and Berkeley. News is on Phil's Camino Face Book page. I am just trying to stay healthy, seems like everyone and their brother has some version of a cold now.
Ok, off to work. Woodwork R Us. Remember St. Andrew's Day, love, Felipe.