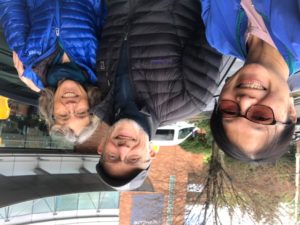 OK, here we are, all cozied in with my chemicals in the comfy chair.  Time to say hi.  Just had a great visit with Dr Gold where we agreed that we are on top of the situation.  Finally we have a workable configuration of agents that agree with me.  And my weight was back up to 170 pounds.  So royally happy that we turned that weight loss around, was scary.  So, all good news coming at you from here at the moment.
I can feel my energies being freed up from all that.  It has been three months now when most of my attention has been on treatment and it's side effects.  What a relief to have a smoother trail for a while.  Time to find ways to build my strength again.
Just a bit of Springtime news, Seattle Mariners Baseball opens tomorrow here at Safco Field.  What do they call baseball players sometimes, "The boys of summer"?  Yea, I like that.  And the temperatures here have gone from 40's during the day and 30's at night to a balmy 50's during the day and then 40's at night.  This looks like spring to me and it is going to bring on the blooms that will fill the air with fragrance here soon.  So you had better come and help me walk the trail here one of these days soon.
Here is a book title for you also: Being Mortal by Atul Gawande.  It is subtitled, Medicine and What Matters in the End.   If you liked God's Hotel, maybe you will like this one too.
OK, out of steam for now.  Hope that things are going smoothly for you.