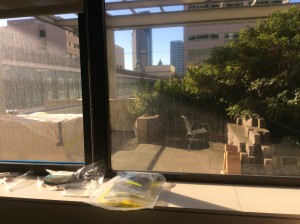 I'm thinking that the presence of Yogi Berra quotes in one's proximity is a good thing, the more the better really. I've always loved the things that dear man says. Annie had a quote in her book, I remember. But one can pass days and weeks without any sign of one.
But I actually produced one recently, I think, well you make the call. I was talking with Josh, one of our son's buddies yesterday morning and he was asking about our hunting trip. I was saying that the weather was a challenge with the cold and especially the wind but, "It was beautiful when it was beautiful." Right? I'm happy with that, my first!
Then I remembered that Josh came up with a Berra, that really I think is immensely better, back a year ago. It was November when the film crew was here and the sun had gone down on the last day of filming and we were partying outside around a bonfire. Right in the middle of that celebration our beloved dog Sture (pronounced Stura) collapsed and died before he hit the ground. It was really so elegant for he was suffering with his cancer and we were medicating him to give him a few more weeks and then… We laughed and cried at the same time. Josh was comforting My Rebecca when he said to her, "Sometimes life is so sudden." What a Berra! A guy would give his left arm to come up with something like that!
Yea. Today Our Jennifer and I are at the hospital for the interpretation of our scans which we had yesterday and then our treatment. Big day. I got my interpretation and things are basically OK, some of the tumors are slightly larger. Jennifer's is coming up momentarily and I am praying for her.
My Rebecca is home at the ranch baking cornbread for the dressing and baking pumpkin for the pie. I just mentioned that to the nurses here and they were totally impressed. Lots of them were going out to eat at restaurants on Thanksgiving much less cook much less fix the fixings. No one knew of anyone who was cooking an actual pumpkin for sure. OK then, way to go Rebecca! Kind of "Little House on the Prairie" stuff for sure.
Well, that's the way it is gang. The sun is out here, clear and cold. See you on Turkey Day, love, Felipe.