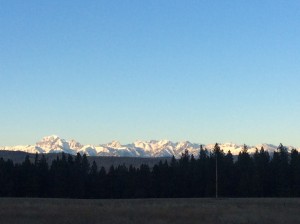 I'm a lucky man. Sister Joyce was here on Vashon and I got an hour with her. I plead my case so to speak. I told her what has been occurring since last we saw each other. She had not been reading Caminoheads the last few weeks so I got her back on track with that. The last few weeks on this blog have been interesting. Somehow a gear has been shifted in my walk.
Sister Joyce is good at fitting anyone's story into the broad bigger picture. She is good at clarifying the muddy. That's what I need as I drag my "stuff" in to her as it's tangled and caked with road grime and so close to me that I can't see it properly. "Well, what have you been up to?" she will ask.
Yea, what have I been doing? Somehow old Felipe has gone a little woo woo could be the story. Somehow getting outside the bounds of my traditional understanding of things. Somehow in unknown territory for me anyway. And I'm not bragging or complaining but just reporting as the blog has always done. Bless Sister Joyce for keeping her ear open to me and letting me know that things are alright. We are all a little further down the trail today in places that we haven't been before and things look different than they did yesterday, that's all.
Well, on with my day. Thanks for lending me your ear. Love, Felipe.