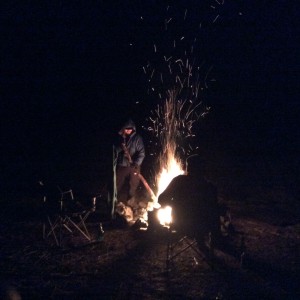 That was Our Jeniffer's Thanksgiving prayer in an email that I just opened. We both had a hard day at the hospital yesterday. But like her prayer says we had lots of good souls hovering around us to make things easier. Beside treatment we had our intpretation of our scans. Things could have been better with both of them. Doc Gold put us on heavier chemo drugs, Jennifer starting yesterday and I will start in the Spring. I wanted to wait for her to recover from her series before I started. Anyway, that's what it looks like in a very general way.
It's all dicey, yes? But Cancer Commandos hang tough. Stuff happens and pretty soon we're making lemonade, one way or another. I was up in the early hours with the nervous energy from the steroids in my cocktail. Did an hour and a half of writing. Started to develop a list of "Findings", important things that I found in 2015. I can't take credit for thinking up anything much originally but can pick up things off the "spiritual ground" and fit them into the Cancer Commando Code. I'm good at that.
So, that is coming up and so is Advent, the leadin to Christmas. We will have to weave that into the blog. Yup, we are following the trail and we will maybe take some side trips to enliven things for you.
Well, have a great Thanksgiving, and live that gratitude tomorrow and the next day. Love you all immensely, Felipe.