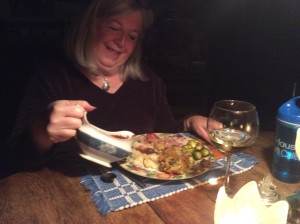 To start with it was a thing of beauty, so I don't forget. Earlier in the week she was whining about it just being the two of us present but then we were present to each other and that's the magic. Earlier in the week I was talking with my nurse buddies about Thanksgiving meal plans and it is amazing how non Norman Rockwell things have gotten. People are busy I suppose and things get short cutted.
Katy the nurse who I was with the most was amazed that Rebecca was making the cornbread to make the cornbread stuffing. Then I said that we had grown the corn and ground the meal and that is when Rebecca received the "Little House on the Praire" chef award, right? She also cooked the real pumpkins, that Catherine and Dana had grown (neighborhood farming), to make the pie. But she did buy the real whip cream in a spray can but we let her go on that one as we don't have a cow to milk.
So, we always learn something new and the directions on this family farm grown turkey said to bast the bird with wine. Yea OK, how about the gravy that makes?! That's what she is pouring in the pic. The turkey was a gift from Colin, a friend of Our Wiley's by the way.
So yea, kudos to Rebecca on this one. Just like we learned on The Camino, be present, work hard, improvise, pay attention and smile. Oh, and give thanks!
Bless you dear friends, Felipe.