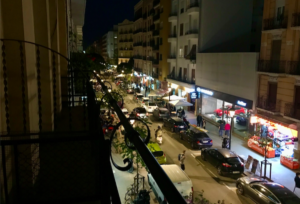 Dear Caminoheads,
Thank you all for your patience while this blog has been literally unattended by this Caminoheads Bureau Chief… I feel terrible for not posting as Phil used to, but also, I feel I am not betraying his trust because Phil knew about my move to Spain, he was so happy when I told him, and he was the one suggesting me to take a "Sprain break" (not sure if that is what he thought the word should be written, but makes sense as it was all about a "Spring break as I moved to Spain" despite the medical meaning!)
The reality also is that I needed time for myself; I stayed away from social media, have stayed away from the phone for instant messengers and chats as much as I could, and have tried to focus on exploring how is that I feel doing this transition… With a very busy job (and some changes that have made things more complicated than what they already were), I have not been successful at exploring that question… yet, there are a few things that I can already tell: life has a different pace here, it is slower, maybe it is slower because Spain has mostly aged population and low birth rate, whatever is the reason, this pace goes more with my personality… I cannot do things fast; I am a walker, not a runner. And talking about walking, here all is walking distance if you have the time. It is lovely to see the older people walking at "their" pace… which not only is the result of "physical limitations"… it is who they are too…
But, there is a time for everything under the sun, and today sounded like a good time to resume my duties here as the working week starts after the Easter extended Bank Holiday (we have had off Thursday, Friday and Monday) and after these, there are no more BH until June, and let me tell you: if I should grade Spanish people attitude to have fun and make the most of the days off work, 95% of them got a 10/10 (or A+++++++)… there are certainly lots of tradition around the religious celebration, but also, there is a sense of family and friends gathering that I love… like being back in time when my grandparents, my uncle and aunt, some of those distant relatives they were friends with, would come for Easter and the days used to be like this: religious, tradition and gathering around the table… Likely, it is also true that there was a moment for that under the sun and these days, it is time for something else…
Well, I guess I will figure as I go, right? Just have to follow the yellow arrows!
Hope you had a nice Easter wherever you are and plans were! Thank you for being here!
Buen Camino loves (in Spanish!)
Cris