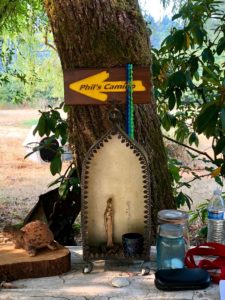 A friend, Joby, put up something interesting on FaceBook and I bit on it. It was something like International Book Week and you were supposed to grab the nearest book and go to page 52, the fifth sentence, and post that sentence with the instructions for the next person. Some interesting sentences came up amongst friends.
And you know how recently we have been kicking around ideas about expanding the definition of pilgrimage. We talked about including Phil's Camino in the realm of pilgrimage even though it has no "real" destination. We had so stretched the definition of Camino to the point of being on the verge of it becoming a state of mind. That's a good thing to me.
So, the no coincidences part is my quote:
"But along with the monastic peregrinatio ascetia, another form of peregrination, the peregrinatio ad loca sancta, developed starting in the 4th century under Constantine."
So with my mighty Latin skills I am interpreting that to mean that the pilgrimage to holy places started in the fourth century and before that was something different. And that was the ascetic pilgrimage, whatever that was. That sounds challenging if not sorta grim. But the important thing is that there was something different and it looks like it was happening locally inside or around the monastery, sans destination.
So, that is what I ran into recently. Had to work around all the partying that has been going on. Oh, and my scan report came back "stable" meaning no growth of my tumors. That is good news. God has me where He wants me these days. No "Get Out of Jail Free Card" but none the less I am left with something challenging but doable.
Thanks for all your thoughts and prayers. No one has support like I have. It is unbelievable powerful. Thank you one and all.
No coincidences love, Felipe.