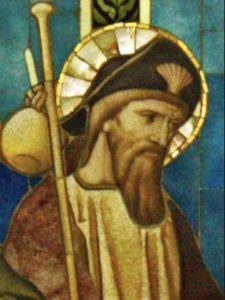 Somehow it is not Kansas anymore. All that in our rear view mirror now. But where are we? What are we doing here? Can we be comfortable here in this new land? Comfortable is not the right word but what is the right word? Can we flourish here once we figure it out like our ancestors who came to the geographic America threadbare and hungry with nothing but a desperation/hope double combo full meal deal within them.
We though have fallen through a looking glass. That is it, isn't it? We were equally threadbare, hungry, desperate/ hopeful. We have discovered Heartship so far though. Our Caminoheads are changing to Caminohearts before our eyes. We are in the process of internalizing the situation, the Camino experience. Someone wrote on FaceBook in the last few days that after the Camino things were never the same. Yes, something massively significant occurred AND continues to unfold for us.
There is something that has overtaken us. Something strong but stealthy like fog and subtle like a mist. We can't quite put our finger on it but it seems to have stalked us. We the hunted. And maybe there is a time of trying to figure it out being over soon and we can surrender to a time of enjoying it. Maybe it has been all figured out for us all along and now we are just catching on to that fact here in the Land of No Coincidences.
Right now I am so happy with the blessings that this holiday of Thanksgiving has brought to us. It all seemed more poignant this year. A drop of gratitude in the mix of our lives can go a long way to healing our many rifts.
Enjoying you loves, Felipé.