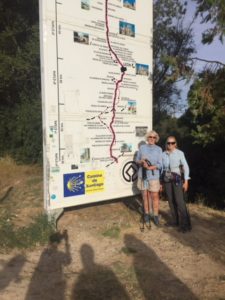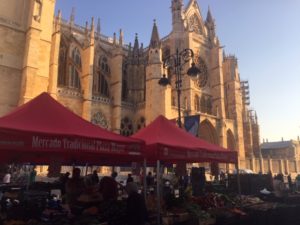 Sybil and Mary are a couple of folks from here on the Island. We had a sendoff party for them maybe a month ago. So some pics have come in making their progress, the latest being Leon. It feels good to think about all that from my armchair. What a bunch of work, right?
Hehe anyway, What is on the schedule for today? We got Autumn coming here and trying to get all the chores done that relate to that change. Visitors are still coming to walk on the trail. BLT's are prominent on the menu with ripe tomatoes in abundance.
There is talk of having a getogether next summer for as many Caminoheads as can make it. Just starting to put together timing and logistics. Stay tuned for details on that. This is exciting stuff.
Also just following this post I am going to put up the walking schedule for the rest of September and October. There are quite a few days in October that I will be absent and the trail will be closed. Want you to be aware.
Catherine y Dana, major players in our neighborhood are winging back from England after their pilgrimage there. We missed them so. We will come up with a report on Dales Way for you in the next few days soon as they are ready.
OK, you guys are the best ever. Keep in touch, more good stuff to come loves, Felipe.