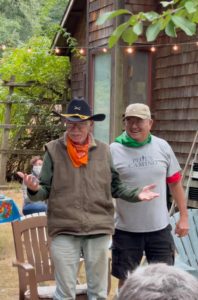 Dear Caminoheads,
I will probably write a more decent post tomorrow or during the weekend, and I will get back on the comments and the emails too, thank you all for writing and specially commenting in the blog, as Phil said, that is how the blog breaths! (This week has been a bit bumpy down here.)
Nevertheless we have short sweet news to share… The Caminoheads community is expanding into social media. We know that Phil has shared with us his concerns earlier last year, prompting us all to watch the movie "A social dilema", but surely our content will contribute to goodness…
Ryck proposed the opening of a facebook group for the post Oasis, which is called "The Oasis 2021"; and the Caminoheads blog is in Instagram under the name "Caminoheads" (we started the instagram as a mitigation for connection when the blog went down, but it might be good to keep it considering it might be engaging and the content will be the same).
They have place for all. And both are Covid safe. Show up!
Social closeness loves,
Cris