(My Wifi is very funky this morning and is making my writing of today's post difficult. So, here is Rho great guest post that is really for tomorrow to fill in. Felipé)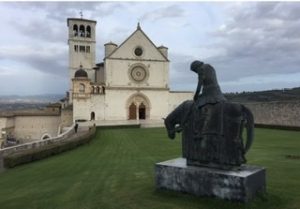 "The Camino will provide."
I have heard these words many times; from those who have experienced this in their personal journeys and from those encouraging others who are pondering this endeavor. As someone who has done spiritual pilgrimages in and around Assisi, Italy but has yet to do a walking Camino I too have pondered this phenomenon which many have confirmed to exist.
In November I had the opportunity to participate in a wonderful retreat at the Mary and Joseph Retreat Center in Palos Verdes, California. It was led by none other than Terry Hersey, a fellow Vashon Islander and also good friend of Phil's. While there were many aspects to this retreat I would say that the three themes which resonated with me the most were; the sacredness of the present moment, permission, and the one I want to explore here, the word sufficient.
Up until this retreat if someone were to ask me the opposite of scarcity, my answer easily would have been abundance. And I suppose in a literal, English language sense it is, but it wasn't until last November that I was presented with a new thought from Terry, and I began to ponder if another opposite of scarcity could be the word sufficient.
For the past two years I have been actively pursuing a significant purge of items in my house. To say I had an abundance of stuff would be an understatement. This material excess has helped to keep my emotional connections to special times, people, and places, it has blinded me with feelings of security in knowing that if one is good 17 must be better, and I have come to understand it has filled a void of needed companionship. But in all this attaining I had never considered "What is enough?" What is sufficient?"
In learning to let go of stuff and all the emotional connections I have to it, I have at times felt as I did on those pilgrimages in Italy. Times where I could be present to the scared moments, clarity as to what I truly need in life, and sense an inclusion into the rhythm of life and those around me. During those times on my pilgrimages I was content with what I had. What was provided was sufficient and nothing more was needed.
Does the Camino provide because it knows our needs? Does it provide because we gain clarity to what our needs are? Or does it provide because when we are there we are open to receiving what is sufficient? And, what does one do with abundance on the Camino? Not the abundance of friendships built or gratitude generated but the abundance of having more than we need, more than we can carry, or more than we can eat.
When people say the words "The Camino will provide" they are sharing with us that we can trust our needs will be provided for and perhaps that is the true treasure of the word sufficient. Abundance can be a blessing, but is can also be a burden, yet with sufficient we can learn to experience, learn to trust, the contentment that comes with having just enough and that just enough can be sufficient.
Sufficient Blessings!
Rho
CSWBC