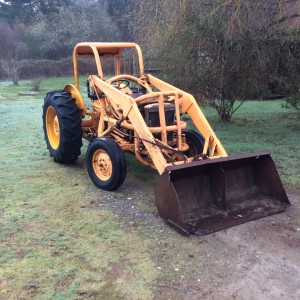 Well, I am convinced that there is nothing that my good buddy Steve and I can't figure out in an hour. He was over yesterday to help me out of my winter doldrums which was personified by Mabel my trusty tractor. Just would not start and would not start and I spent all my free time for two weeks sweet talking her, like some kind of mechanical CPR. The whole thing was getting me depressed but the addition of Steve to the mix was IT. Mucho gracias my beloved amigo!
Off the Seattle and the hospital today to get my portable chemo pump disconnected and see my beloved Dr Zucker who is my rehab guy and general soul mate. We always have a good time trying to make positives out of negatives. Mucho gracias my beloved amigo!
Wow, just peeked outside and the sky is a pleasant ratio of blue and puffy little clouds. Nice. And Mabel is parked in a new spot from where she was from before Spain, over her jealousy. Nice. Yea so, off to a good start.
I was just trying to sweet talk Angela in Sydney to come up with a last minute blog post for tomorrow's TGIF. I know it is late but some folks work better like that. So also, if you have anything to contribute you are perfectly welcome to add your Camino thoughts to YOUR Caminoheads blog. Short and juicy is better than long and dry is the only rule.
Time to get today moving. So juicy loves, Felipe.