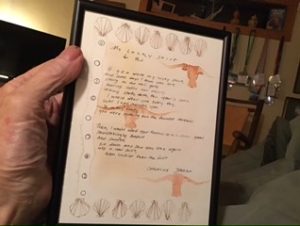 Our Forty Third Wedding Anniversary Party
This was My Rebecca and I's affair. We went up to the Vashon Country Club Restaurant the Sandpiper. Gosh, did we dazzle those golfers.
I'm glad to report that we were "louder than the Italians" which is a goal of every good party goer and something that we picked up on the Camino. We had four other couples, three of which were at the General's Tent several nights ago and described by Catherine and Dana in last post.
I was totally dazzled by this group. Not only were we "louder than the Italians" we made it to "Midnight in Paris". No joke!
I realize that we were drinking wine and other liquids, but subtract that we still had so much talent at that table. It was oozing all over! Most magnificent anniversary party. Yes, oozing.! We were making up poetry, reciting poetry, reading poetry. The sun was going down over the purple mountains. And then we were the last table.
Forty three years we have been married. How did we get there? Geez, a long time. But now things are especially golden for us. That is hard to describe but take my word for it. Thanks to all who contributed to the ferocity of the party to celebrate this.
Felipé.