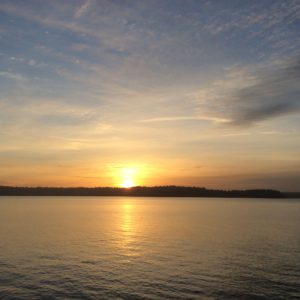 It's 0830, past dawn and the outdoors is foggy with very limited visibility, good blogging weather. I've listened to the same Pink Martini CD twice, coffeed up and am ready to blast off to be with you. So how are you? Summer where you are? Half of our friends are up and off to Mexico or New Mexico, somewhere south. Not us though, someone has to hold the fort.
Today we are going to cover the third of the Pilgrim Beatitudes. These little jewels don't always reveal themselves on first glance. They can be slightly veiled, which this one is. Number three:
BLESSED ARE YOU PILGRIM, WHEN YOU CONTEMPLATE THE "CAMINO" AND YOU DISCOVER IT IS FULL OF NAMES AND DAWNS.
We've been contemplating the "Camino" for almost three years here at Caminoheads and that's a lot of dawns. Always seems to be some new angle or detail or revelation. And it is definitely full of names. New folks show up all the time to add to the conversation. Folks that have been here a long time come up with new ways to look at things. If any of you want to ever write a paragraph or more for us on your Camino thoughts you are always welcome.
Time for me to hit my trail. The day calls with chores and opportunities. Hope that things go well for you. Love dawns, Felipe.