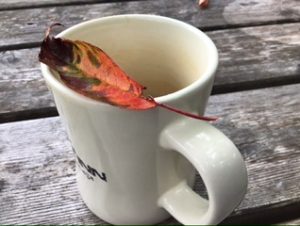 Geez, wasn't that a great post yesterday? How am I going to follow that I ask? Hmm. Sitting outside on the ranch. Everything is calm with the sun creeping across the landscape. Have a Zoom QandA here in a few minutes. It's Annie's group and they just watched Phil's Camino and hopefully have questions for us.
Saw some cowboy writing yesterday which was taking about being "ON the ranch" rather than the usual at the ranch. Most of us here talk about being "on Vashon Island" and "at Vashon" seems wrong. And I remember when I was visiting Malta the island nation the natives used "in Malta" when I wanted to say "on Malta". But whatever I like the feel of "on the ranch" and I don't know exactly why. Wow, I suppose this is some sort of language lesson that I cobbled together.
Carol, my handler, is about ready to call me and get me organized for this Zoom. Just enjoying the last few minutes of quiet before the show gets to warming up. Ravens flying overhead, fall leaves raining down on me as I sit. Oh there's Carol!
OK, great session with Annie and all the folks that she gathered on her Zoom meeting. A hour is hardly enough time. Cris and Ron, two of our Caminoheads Bureau Chiefs we're there. Author Esther Janzsen showed up to add some kind words. She called it "a love fest on Phil". Geez!
Anyway, I would say they are my people, that is the way I see it.
And Annie is doing such a great job with this venue. She's got authors and filmmakers and all kinds of interesting folks lined up to be in these weekly productions. Maybe check out her FaceBook group Pilgrimage in Place to learn more.
OK, next project today is to move some firewood for a friend. See you soon. Will be back on Zoom at 3PM with Pilgrimage in Place.
OK loves, Felipé.