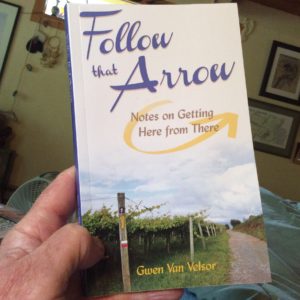 That is the title of Gwen Van Velsor's new book with the subtitle "Notes on Getting Here from There". I am going to write a review on Amazon for it in a moment so I thought being here would help organize my thoughts.
It's a book about the Camino as you probably already guessed. And it's a good book about the Camino. It reads like a novel, easy going. But the story isn't easy going with a lot of inner working going on from beginning to end. It is a very personal account of the that basic Camino phenomenon where you think you are doing the Camino but really the Camino is doing you.
Just think back to maybe a year ago when there was a fundraiser in Breckenridge,CO for our documentary. It was at the Speakeasy Theatre with our friend Karin Litzmann. And next to the theatre was the Yellow Arrow Cafe owned by, guess who, Gwen Van Velsor. She had a special coffee made, "Phil's Pilgrim Brew". So, that's where we know Gwen from. And since then she has gone on to write and now is promoting "Follow that Arrow". Best of luck Gwen, Buen Camino!
Speaking of that, just heard this morning that my oldest friend Jim and his lovely wife Gloria will be hiking west from Burgos in a few days. Man, out on the Meseta following those arrows. Buen Camino to them!
Alright, that all I can do for now. Let's take life in bite sized pieces, shall we. Here we go, love, Felipe.x