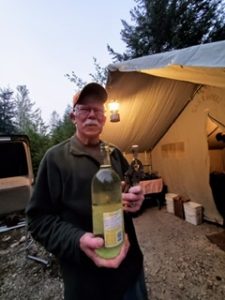 Laissez les bon temps roulez!
This last week I graduated to Hospice Care and am no longer taking any treatment.  The Island Hospice nurse came over to the Ranch today to ask a thousand questions and find out our vision of my flying away.  So, I ask if she is ready for my vision?  So, I described it starting with that I want to pretend that I am a Civil War General passing away in his tent.  And she didn't blink and as a matter of fact said, " How about costumes?"  Hehe!
So we are setting up the Elk Hotel (tent) on the deck by the house to have this happen.
And also the really fantastic news that describes the other half of the Circle of Life.  Wiley and Henna are pregnant with a baby girl and scheduled for February 22.  They are so glowing right now.  My Rebecca is so in heaven.   So that is the other side of it all.  I am so amazed by the synchronization of this whole thing.
So, Happy Saint James Day!  Where would we be without this guy?
Posted by Cris on behalf of The General (aka The Boss, Phil, Felipe)