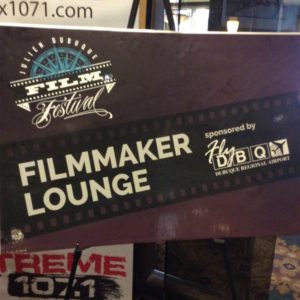 Taking my first cup of coffee at the hotel restaurant sitting next to a window facing the Mississippi River.  I would be able to see it but there is some low lying fog in between.   Over yonder, that's how they talk in Iowa I think, is a museum that has info on old Julian.  It is a must to learn about him for me and for you.  Thinking of Vashon and family and friends.  Wishing you all a beautiful day which I think is not that hard.  And then there are my buddy Caminoheads strung out around the globe.  Wishing you the best where you are in Madrid, Cairo, Sydney.  You all are in my thoughts and prayers.
I am here with Phil's Camino but you are all a part of it in a very real way and are here with me it feels like.  Be with me at 11:30 this morning at the first showing for this audience.  Be with me at the Q and A afterward.  Annie is coming in tomorrow morning so I am handling this one alone.  It will all be a good time.
Pilgrim Farmer John will be here at 10 to join in that fun.  After the Q and A we are off to his farm about two hours out on the highway.  I feel so privileged to be able to hang around him.  So we have a tour of Iowa agriculture and a big farm dinner in our immediate future.  Also looking forward to meeting Farmer Cathy somewhere in there.
If that dinner is anything like the breakfast at the hotel restaurant I know that I am in Iowa.  None of that small plate stuff here.  I literally got half way through my scrambled eggs and corn beef hash.
Right now I am sitting in the Filmmakers Lounge writing and checking out the free coffee.  My iPad is doing some quirky stuff so I think that I will leave this for now.  It gets too frustrating for Felipe.  Where are my people?
Well Farmer John said on the phone last night that I would know that I was in Iowa because everyone is so nice.  Yes, I see that.  Looking forward to the whole darn adventure, love you, Felipe.