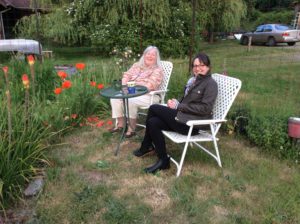 Just taking a little break at the moment.  Catalina is here to be with us for the weekend from Berkley, CA.  We are working together to get down to the essence of Phil's Camino – the trail, the experience, the substitute for the real thing.  She is a prof and art historian and her special interest is in labyrinths and shrines that people,and groups have built to serve as replicas of the real thing.  The idea is to try to have a similar experience to the real thing if a person can't make the trip.
So, she came to the right place, right?  We got that stuff going on and it has been working for a while.  It is fun to see her come and check the scene out.  With her knowledge and experience she is looking it over.  It's fun to help her out.
A Saturday in the Pyrenees means that I am having low energy due to the normal cycle of my chemotherapy.  So, I am resting and writing and working with Catalina.
We are going to a harp concert tonight.  I've never been to a harp concert, first time.  Catch you all tomorrow, Love, Felipe.x