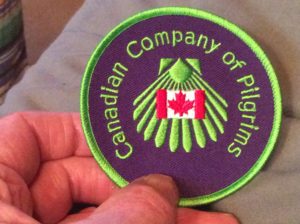 Hi.  Just catching my breath.  It has been an extremely busy two days.  'Today I am going to goof off as much as possible.  And tomorrow off again this time to San Diego.
These days have so many moving parts that they are hard to remember and describe.  Saturday was the boat trip from Seattle to Victoria with My Rebecca, Carol and Annie.  That was a three hour ride each way.  Then in Victoria we had a showing with the local chapter of the Canadian Company of Pilgrims.  This is the equivalent of our APOC.  It was in a real theater with Phil's Camino on the big screen with great sound.  The Q and A was really exceptional.   Then we had a party at the home of one of the group.  Very nice and lots of good conversation and connections made.  Fabulous folks.
Then Sunday Annie went to Mass with Catherine and me.  Father David is back from his vacation.  Then we had a whole day of filming with my Bible Guys and here at the trail and around the environs.  That is a lot harder than it sounds but we all survived.  Then the film crew headed back to Seattle and Annie was off to the airport.
But I will see her again in San Diego for two showings at the SD Cinema Society.  They have a website with all the vital details.   So, will have more opportunities to touch base with folks out there.
Just feel like I have been chasing my tail for two days.   It is hard to come down from all that and get back to anything in the heavy duty blog department.  I will just have to report to you till things get back to normal.
You may have noticed that the blog is looking different these days.   A little different now maybe but we have more changes planned.  I had a donation come in to help out with the trail and the blog,  so we are catching  up on  maintenance.   Hanna is helping me out with the blog some each week.  I realized that if I wanted a better blog I would need concentrated help.  I am so focused on content and so unsavvy with the tech stuff that this seemed appropriate and will make a lot of difference for you and me.
The trail needs help with some of the areas that get hazardous in wet weather.  So we are going to haul in crushed rock to help the inclines and wet areas in the woods.  And hauling in wood chips to cover areas where the tree roots are exposed.   Trying to get to a safer surface.   Speaking of the trail I need to get Carol  up as we are walking in half an hour.  Jump up pilgrim!
Bye for now.  As always lovin your stuff, Felipe.