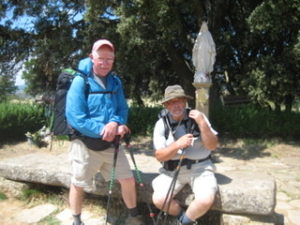 Here we are coming up on a year of hiding out. I can remember seeing the news report of the first 500 people killed by the Covid and thinking that we'll get a handle on this soon. That didn't happen in the easy way I envisioned. It has been messy and hard and it is still messy and hard and it has been long.
Yes, messy, hard and long like the Meseta. Yes, hard and long and yes messy. By that time on the Camino I had lost all my underwear as well as one leg of my zip together pants. And I was losing so much weight that said pants kept slipping down continuously. I was sunburned and windblown and every other compound word. Oh and plus limping. That's how we showed up at Sarria to greet all the new shiny people. Yea, we were messy.
But we survived and the flesh wounds healed up. Now we are messy in other ways. I really don't know what that means but I feel it is true. We have been through a lot and there is more to come but we all sense the light at the end of the tunnel. I just want to sit in a lawn chair in the August sun with you and just take it in. Nothing needs to be said.
Catherine coming, birds need to be fed and rosaries said.
morning loves, Felipé.