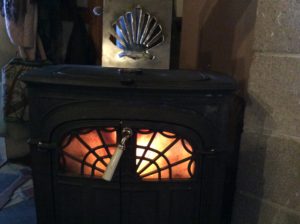 The last day of October, Halloween it is. Not that we have ever had a trick or treater. The driveway is too long and scary for everyone.
The last day of the regular deer season today. I was out last evening before dark and saw two small bucks close up but couldn't grow them any bigger by looking at them hard. Well, still got this evening and then there is a four day late season around Thanksgiving.
The wood stove is running all day and night and will be for a long while now. Yea, and the new little stove is working out nicely just have to get used to it's quirks, likes and dislikes. Every morning it is a special ritual that we go through to resurrect the flame. And the ritual is different than the one that I had with the last stove that we had for twenty years. Have to figure out the finer points of the new dance.
All this might seem a little primitive or quaint to some of my city friends but it seems to make sense out here. Some of us have to live out on the prairies or in bayous or on islands.
quaint and slightly crooked loves, Felipé.