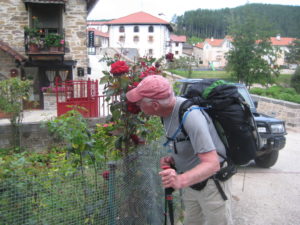 Dear Caminoheads,
Ron and I have a passion in common: we like to follow the podcast called "On Being" by Krista Tippet. Krista is a very particular interviewer, some of the people I recommended her love her, and others cannot stand her. Very human, right? I am on the side of enjoying very much the conversations she manages to create with her guests. And lately, as we were arriving to the Oasis, I have been reflecting quite a bit on a question Phil has had us pondering for so long... What have we figured out?
Krista ends her conversations almost invariably with the question"What does it mean to you to be human?"  and while pondering about the arriving to the Oasis, our familiar arrival to Santiago, togethernessing in this blog, and other minor matters just like those ones (ha!), a conversation between Krista and Bruce Kramer -and educator, musician, who was diagnosed with ALS (amyotrophic Lateral Sclerosis)- came to my mind. I listened to it on the Saturday of the Oasis, as I was driving to the city for an unexpected dental appointment (all is ok, although I am still a bit sore). I thought to share a few pieces with you…
"There was a place where you write that as an educator, you had learned the difference between opening to possibilities through questions and closing creativity with answers. And that then as ALS became part of your experience, the question you were — you started to be able to ask to turn that was, "How shall we grow into the demands of what is beyond us?" Which is a different question from, "How shall we fight this?"
…
We think we're going to leave something of ourselves. But education is an act of faith. It's faith in the fact that human beings have the capacity to grow and that as humans, we can become better. We can become more compassionate. We can become more understanding. And no matter what it is that afflicts us, that affliction can become a part of us that makes us better people.
…
And healing does not imply that your life is suddenly going to lose all of the struggle, all of the challenge. What it does instead is it strengthens us for what is next…"
Growing loves,
Cris