This is a cool book and we have been working with the author, Esther, on it for several years.  There is a physical book signing up here close by and a Zoom of that.
Felipé.x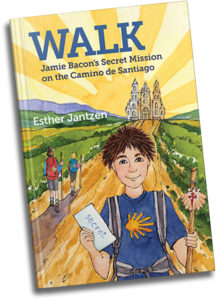 You are warmly invited to join a special Zoom event—a "book signing" for WALK: Jamie Bacon's Secret Mission on the Camino de Santiago by Esther Jantzen.
Please put it on your calendar for Thursday, September 30, at 5pm Pacific (6pm Mountain; 7pm Central; 8pm Eastern).
Esther will be interviewed for 30 to 45 minutes by Jonah Barrett of Orca Books, an independent bookstore  in Olympia, WA. We love to encourage people to support independent bookstores!
WALK is almost the only book for kids in English about the famous 500-mile pilgrimage across Northern Spain. It's a mystery, a travel adventure, a treasure hunt, an education, and an unlikely hero's journey—and,  based on reviews, adults find it compelling and moving, too.
One reader says: "WALK is a captivating adventure story involving history, legends, serendipity, loss, and surprise. I was swept away with the excitement of Jamie's quest across Spain. I had a celebratory glass of wine in my hand as I walked into the Cathedral with him! It's a book for young and old alike that brings alive the uniqueness of the unforgettable Camino de Santiago experience. I absolutely loved it."
Adam Wells, Life Transition Coach, Camino Mentor and Pilgrim
Please click on the Zoom link below to join on Thursday, Sept 30, at 5pm (Pacific).
Join Zoom Meeting
https://us06web.zoom.us/j/86501127516?pwd=elo5MUlWekZkcG51QUR4WFNkSnBTQT09
Meeting ID: 865 0112 7516
Passcode: 736799
Posted by Cris on behalf of Phil