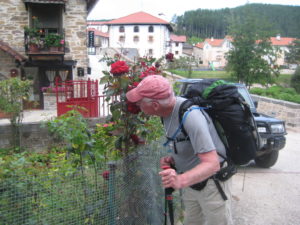 That was it, yesterday late afternoon, our first official tapas. The sun was warm and the seats were dry and it was just like old times except we were pretty out of shape. But we were all happy with the proceedings.
Henriette was here and she had brought some good food and drink. And Cathy and Tim were here and they brought some goodies. And we had some things to contribute and like any good tapa situation it was a potluck.
Like an impromptu picnic along the side of the Camino with whomever was around, everyone would contribute what they had.
I just had a crazy memory from Spain. This was during the time before Burgos walking with Gracie. When we were on pavement or more primitive road I would pick up nails and screws that were potential flat tires for someone. One time I picked up three potatoes that had fallen off a truck. I carried them for a few days thinking they might come in handy. Probably pulled them out for a few impromptu picnics and we joked about them. We finally planted them in the soil along the road somewhere.
Ok, time to move on. Maybe I'll get some pics from yesterday and I will get them to you.
springtime loves, Felipé.