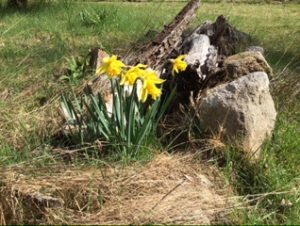 It is getting harder and harder for me to be still waiting for my latest muscle pull to heal up. I am prone to coughing lately from my lung issues. I am doing better at controlling it but still am open to pulling a muscle in my rib cage. Have one now that I am trying to nurse along so it will knit together. But I grow impatient.
Fortunately I have a good book to work on that Catalina had sent a while back. And fortunately I can read again. During the height of the pandemic somehow reading wasn't possible, too scattered. But now with my vaccinations I seem more able. Anyway it is a book about history, of course from Catalina, a novel about building a medieval cathedral. It's entitled The Pillars of the Earth by Ken Follett.
But in the meantime the sky is blue and I would love to get out for a few minutes to get something done around the ranch. After lunch I will give it a try, gently. Have a walk later too and the birds need feeding.
Oh look, there is a woodpecker at the top of the power pole drumming away. That is a Springtime deal for sure. I don't know if that is establishing territory or if it has to do with mating, I'll have to ask him.
catch you later loves, Felipé.