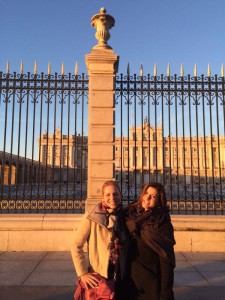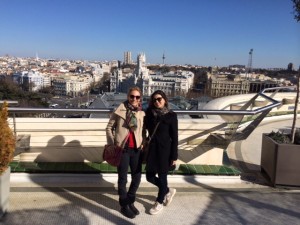 So, cool, that Cherry comes through one more time with thoughtful thoughts on TGIF. And so cool that my good buddy Steve (sometimes Steve-O) joined in on the comments to Cherry's post and then Cherry is back to him with more thoughts. We got a global tapa conversation situation going on here people. And I'm happy!
Then, on top of that, the magazine article on this pilgrim is out and here is the link:
http://www.nwcatholic.org/SEA0315/mobile/index.html
So check that out. We are blessed. I am happy some more.
Also, I think that I will include two pics of Anamaria and Alida in Madrid. Alida there recently for a short visit while Anamaria is there in school. Seeing them brightens my day. I'm just good all around!
Let's see what we can make of this day. Making venison chili in the crock pot for company tonight. See you tomorrow, Buen Camino, happy loves, Felipe.