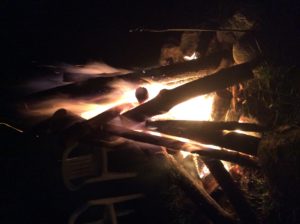 New Year's Eve today.  Time to maybe jump a shark and try to make 2017 a little better last minute.   Seemed kind of a ragged year in general.  I think we all deserve a new start.
So, My Rebecca is planning the New Year's meal for tomorrow which will be her traditional Southern pork roast.  Along with that comes mashed potatoes, sour kraut and black-eyed peas.  Maybe I will make some cornbread to go with it.  Yea!
We have a walk this afternoon at 3:30 and then the first one of 2018 at 9:00 in the morning.  Come by.  I always try and get a really really big rock to put on the pile the first day.  That is sort of a jumping the shark move, a preemptive one.
Also wanted to apologize for not getting Christmas cards out, probably the third year in a row now.  Not that we don't like you but just seems impossible anymore to get done.  I keep thinking that I would rather have a phone conversation with you really.  Maybe we can make that happen.
And hopefully the blog will march on into 2018.  It has been such a good thing for me personally and having you be so loyal and reading along has been great.  I know it is small potatoes as far as blogs are concerned but it is our small potatoes and that's what is important.  In May it will be four years in operation, pretty amazing.  Thanks for sticking with me on this.
New years loves, Felipe.