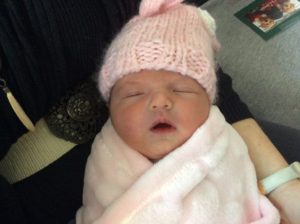 This New England weather is the perfect Christmas weather like in Norman Rockwell illustrations or Currier an Ive's prints.  So intense one needs sunglasses to see it.  Never need sunglasses for the usual Seattle Christmas.  Although I hear this year might be be one of those anomalies you hear about.
Anyway, the real news is Freya's arrival.  And guess who is totally in love?  I finally got to hold her and see her close up.  See, this is what happens to crusty old seventy year olds sometimes, they get all goofy.
At Mass on Christmas Eve I got the message that "where I came from is where I am going".  It is the notion that me going toward death is the same as going toward my birth or where I came from.  All of a sudden that made sense.  The only problem is that my birth was seventy years ago, can't quite relate or remember.  But holding Freya connects me to a place to touch that mystery.  It's really that easy and amazing.
Well, that might not be very Christmasie but it is happening at Christmas.  It's a gift for me.  Thanks for listening.  Love, Felipe.