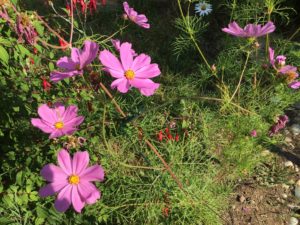 There was a song back in the day, the 60's, the 1960's, like that, "Groovin on Sunny Afternoon". A catchy tune. Now we have Zoomin on a Friday Morning. At least it will be morning here but later in Argentina, England and Spain. It is a gathering of Caminoheads Bureau Chiefs from all over with Catalina our Historian. Catalina has the book cooking about this blog, six years of it anyway. She is taking it from the beginning up to the Veranda party. Just briefly, it is a condensed version of all the blog material from May 2014 to August 2019. We are trying to make it come out to be a normal sized book from two Don Quoxite's.
That is the update on that, pretty exciting hey? So, today Catalina is briefing the Bureau Chiefs on this project and asking for their help on various aspects of it. This is a big project in my mind anyway but our Historian is sheparding this along with the greatest of ease. She is hot to get it done and out while there is so much interest in backyard pursuits, Camino and otherwise.
Well, that is the big news. Other than that it is the very last day of July. August tomorrow. Almost a year since the fabulous Veranda party and so much has happened since. We are on a different planet now, how did that happen? So, this year we are doing SOMETHING in spite of that. And that is a two day open house on Saturday August 22 and Sunday August 23 is the CAMINOHEADS CORNTINE! This is strictly for locals and it is just a drop in deal. Come pick some corn and blackberries, walk a lap and maybe drink a glass of wine. No major deal but something.
So, that is it for me. Off to watch goldfinches and clip noxious weeds.
late July loves, Felipé.