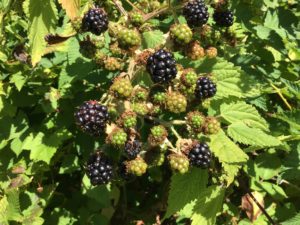 I think that this is a first. I received a request to write a blogpost on a specific topic. Henriette and I have a weekly phone date and we kibbutz about writing or Catholicism or whatever. At some point I told her that the blackberries were ripe. And she went off, as in a rant, about what a pain they were, the blackberry plants that is. About how they just want to take over her backyard. How she has to pay her landscape guy so much to try and make progress against their encroachment. Yes, yes, I hear you.
I myself have fought the war against the blackberry bramble juggernaut for decades now. I've used curses and flames and shovels and tractors, everything short of poisons. Yes, I normally rant Henriette, don't feel alone. This particular species is commonly called the Himalayan
Blackberry and is an invader to this local environment. It is not indigenous and is running amuck over our landscape hither and yon.
But not long ago as I sat and contemplated my cancer I began to study this particular blackberry. I was slowly starting to see and appreciate the beauty of it. I was seeing beauty in it's negatives as well as it's positives, is that possible? Yes, it is!
It is easy to see beauty in positives. The blackberry flowers are beautiful and loved by the thousands of local bees. The fruit is luscious and bountiful and requires zero care to produce, zero. If we harvest 5% of the berries on this ten acres we will be doing almost the impossible. I am sure that there are other positives but I don't see them after fighting the decades of fighting.
But how about the negatives? How to find beauty in something that is so evasive as to be viewed by most local landowners as borderline evil? If I can get away from the landowner mentality and see this plant with new eyes I find it to be truly amazing in it's power and tenacity. The more I looked at it the more I began to appreciate it. And beyond, I started thinking that is what I need in regard to my cancer. What if I, if my mind, body and spirit exhibited that kind of power and tenacity? What if I could cobble together that kind of life force energy in my challenges with my cancer? All of a sudden I had a new mentor!
Maybe more on this to come. So much to learn!
the best in love/hate loves, Felipé.