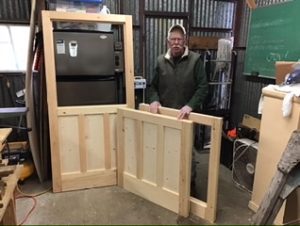 Yea, all of a sudden it was there! Dana just midwifed it's before our eyes. She saw it vailed but hopeful and called it forward. "Go big or go home! We're having it!" Kudos to you Dana!
So, we have eight months to procrastinate, ah plan. That is an over abundance of time to engineer a heck of a party. And pray for a vaccine and a loosening of restrictions. We need to operate inbounds of all that obviously. But I have high hopes that things will look much differently by then.
My coffee is hot as I watch the morning develop. We went from rain earlier to wind, lots of wind and now a lull. Walking in a few minutes so I'm glad that it is settling down. We had a nice walk yesterday afternoon just before sunset. Jim and Jen came to be with me and Wiley. So we had a foursome which is rare these days.
Speaking of Wiley and Jim and Jen I have some pics for them that I could put up today. One of the doors that I am making in the shop for Jim and Jen's art studio. And one of Wiley and James from the top of Sunrise Peak from our snowy hunting trip.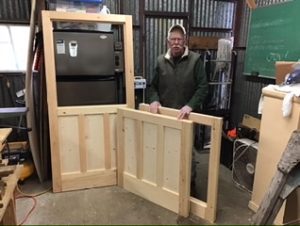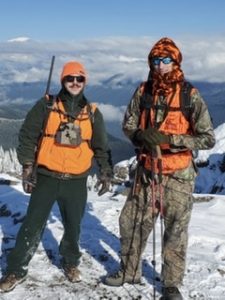 I have to thank My Rebecca for helping me figure out how to do some corrections with photographs on the blog here that has been plaguing me since the beginning. It all seems so simple in hindsight but it took six years to accomplish. Thank you Bekka. I get so wrapped up in producing the content here that I seldom leave time for niceties.
So, it is that magic time to get my boots which have been warming by the fire and get geared up for the morning walk. The leaves are all off the hawthorns but the handfuls of red fruit are gorgeous, ready to feed the robins and waxwings. There is no standing water on the trail and the creek is dry as of now.
handfuls of gorgeous red fruit loves, Felipé.