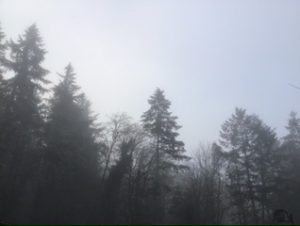 We had wintertime outside tapas yesterday evening with the lovelies, Catherine and Dana. They have a new social space that is out of the rain but outside and named it the Covid Cafe. So we went and tried it out for size. What fun as we are all so starved for interaction.
Can you have enough tapatime I ask? Impossible, you say, correct answer! Catherine y Dana purchased a parcel of land next to their piece. And on that is a ruin of a house that burned down long ago. But the small one car garage with a concrete floor is still standing and they cleaned that up for a little party space.
So the tapa conversation roamed all over the place as usual but I wanted to report on the part about POSTcovid! Yea, POSTcovid, you know, remember PREcovid? This talk was specifically about the possibility of a 2021 Veranda. And Dana said loudly, "Go big or go home, we're having it!" So there it is gang. We are willing this thing into being; we are putting our energy in this direction! This was the tipping point, November 28th 2020 tapas. Thank you Dana!
And Cris anticipating all this said that she is coming for forty days, biblical there, and then added four more days for good measure for the 2020 missing time. So, the momentum has shifted. We pivot! Mark it down, August 20th to the 23rd!
little bird at the window loves, Felipé.
Here are a few words from John in Iowa, CHBC
"Hola, Felipe, et al!!
Today is the Saturday following Thanksgiving, which translates in this casa to the second day in a row having PIE for breakfast!! Love that part of the Holiday. It's also the day we start organizing and prioritizing our 'Giving List" to send out on Giving Tuesday. I would encourage this for others on this world-wide-reach Blog as there are just so many worthy organizations that get a big boost from the "matching funds" that are available on that day. Check it out!"
(Our moon is waxing gibbous, 99% illumination)