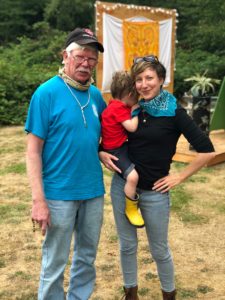 I was gifted a most important item yesterday. It is a little piece of ground in a peaceful pretty place with neighborhood friends all around. Given to me by a kind friend was a plot at the Vashon Cemetery. I went and looked at it for the first time this morning. Couldn't be happier about this development.
My Rebecca and I went and had an hour with the local Funeral Director, also a friend and total wonderful person yesterday. We hammered out some important details for the future. It was time for that or maybe way past time for that really. So, good for us!
And Thanksgiving on our doorstep. We have a turkey thawing. And the time now to gather ingredients for the meal. Wiley and Henna will be here. Henna to make mac and cheese as a side dish. That was to please me as I wanted to try it. So we will be small but mighty.
Last year we were at a large family gathering with Henna's fam here locally. It was really fun and of course we are mourning the loss of such excitement but here we are. Well, we are all promising to be good this year and are keeping it small and local, right?
I heard some optimistic news on the radio this morning about how the States could have half of our population vaccinated by May coming up. This would put a major crimp in the plague. Is there hope for Veranda 2021? Do we have dates for that?
that's all for now loves, Felipé.