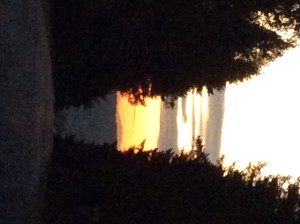 I'll explain that in a minute but now "Heatwave" is playing. Yea! "You know what I'm sayin!" OK, haven't heard that for a week, needed that.
Yea, Hairdo Priates is a game thought up by these two great and active children that My Rebecca babysits for, once a week. One is three and one is five and between the age difference and the boy-girl difference they put together this fusion game that they thought that this substitute grandma (My Rebecca) would love to play. Hairdo Priates, great name huh? It mostly consists of the girl engineering some sort of "do" capped of by some sort of crown. Then Mr. Guy Energy tries to knock off the crown with his play sword. He's in the sword phase, can you tell? I told My Rebecca that she needs to put in for extra combat pay for this one. Well, just too cool and I wanted to get that out to you before I forgot and moved on to other exciting topics. Yea, Hairdo
Priates"! Olympic sport in the making?
OK enough of that. So back to Vashon and reality. Spring moving along. Will take a few pics. I have to get geared up and get my winter chores done and get ready for contracting jobs and planting of garden and corn. There is a definate rhythm of the seasons that has to be adhered to. That is part of getting back to the land I have learned.
Well I hope that your personal walk today is vigorous and enlightening. The Camino continues before us always. Thanks for your friendship and your message. Hairdo Priate loves, Felipe.