Just a pleasure to have our great friend and consummate Caminohead, Cherry, here to rescue us from Stalehead. Mixing it up is good. So, I have to go walk and I will turn this over to one of our Aussie Angels. Thanks Cherry.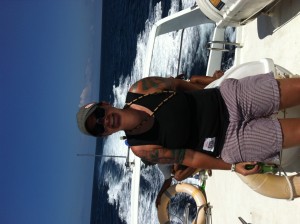 When I left Australia twelve months ago I imagined a life changing sabbatical. Yes I'd get to see famous sites, experience life-long dreams and overcome incredible challenges. But when I left I was also hoping for serious spiritual growth, to be a better person, to find the path to enlightenment. Kind of like Paulo Coelho in The Alchemist or like a trainee monk off to Tibet. I always felt there was something more, I could feel it.
And I had to complete the whole journey though, just like the shepherd in the Alchemist. I had to make the whole journey and arrive back at the start to get my treasure. However, it was the journey that offered me the insights which opened my eyes to the way of life that I had previously only dreamed about living.
It probably didn't help that I had a partner who was a scientist. Don't get me wrong Mel didn't discourage me from pursuing 'spirituality' but she didn't encourage it either. As a scientifically trained person, Mel couldn't quite grasp religion or spirituality because it lacked proof.
My proof is now a knowing, previously an inkling, and then a bit more than a hunch but now a knowing. I know because I have experienced it. Although I'm still an amateur at it, I still know that my 'spirituality' exists. And I have the tools and the frame of mind to continue with my practice of living my life the way I always dreamed, with contentment and peace.
The secret is so simple and we have all heard the same words over and over in the past. But the words finally made so much more sense for me now. Live in the moment. Don't dwell on what was or what could be. Don't be controlled by your feelings, emotions, fears and happiness. Yes I said happiness. Instead, practice mindful meditation regularly. Open you heart, keep it open, spread the love and receive the love. I know I still have a long way to go to experience 'enlightenment' but I also know that I'm on my way. This life is my treasure, my gold. Thank you for this life, I treasure it always.
Cherry