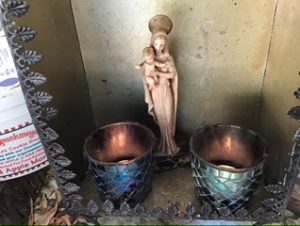 A certain peace has settled over the land, at least as far as I can see and hear. I think that we all feel like we lived through a close call. And now we take a collective breath.
And then there is the pandemic. Crises aren't happy to just come at us one at a time but now appear in bunches. Yike. Tomorrow morning I will be up early because the appointments for the vaccine here on the Island opens up at 0530. Would like to score a couple of those for this week for us. It is our turn being we are older than dirt and medically shot full of holes.
I would really like to get the Moderna shot since that is the company that Cris is associated with. But it doesn't seem like there will be a choice. But thinking of you Cris anyway!
Speaking of Cris she really hates it when I write about American football. I don't know what possibly could be wrong with it personally but I will make it short. But today is a huge football day with four teams playing to see who will be in the Super Bowl February 7th. And this year the Buffalo Bills are in the mix so I will be routing for them this afternoon!
Well Catherine will be here momentarily. Time to walk and say our rosary then off to church for Communion. What a great ritual, probably will miss it when real church starts up again.
peace be with you loves, Felipé.